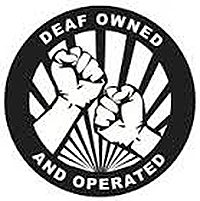 Just as with other communities, the Deaf community has a large population of people who are allies, family, interpreters, etc. The Deaf community is not exclusively made up of Deaf members.
Many times, acronyms will be thrown around to explain an individual's relationship to the community. For example: CODA. CODA is used often, and means Child Of Deaf Adult. This unique relationship may even mean that their first language was ASL or another signed language (though not always). What about SODA? Sibling Of Deaf Adult or Spouse Of Deaf Adult. These both give a similar understanding of connection to the community. Sign may be a first or second language, but may also be a primary mode of communication. Many CODAs and SODAs go on to become interpreters or a part of the Deaf community.
There are even acronyms for people who have no familial Deaf relationships: NERDA. Not Even Related to Deaf Adult. Whichever you identify with, ASL is a culturally significant tool that will enhance your ability to communicate!